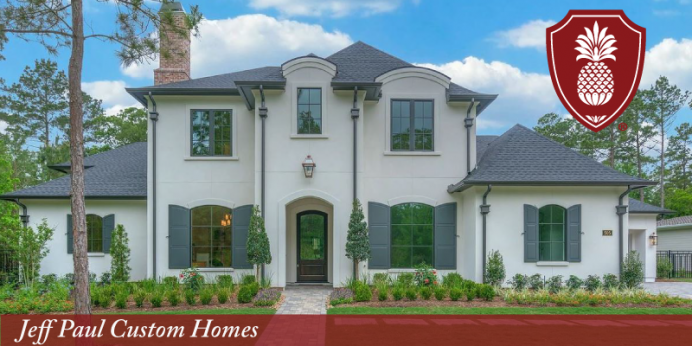 Jeff Paul Custom Homes
Jeff Paul is an expert at unifying form and function. His award-winning company, Jeff Paul Custom Homes, has been doing just that for more than three decades.
Longtime Woodforest builder Jeff Paul Custom Homes has a beautiful showcase home at 505 Grand Palisade that offers more than 6,000 square feet of well-appointed living space. Situated along Woodforest Golf Club, the property boasts more than half an acre and the home has five bedrooms, including two down. Entertaining spaces is a key focal point in the home, with a downstairs game room that could flex to a media room, and a second game room upstairs. A covered pavilion and rear balcony allows owners to dine al fresco and watch the scenic golf course views.
Jeff Paul founded his company in 1982, building on his experience working with prominent Houston custom homebuilders and a passion for design and innovation. That passion permeates every aspect of his work, allowing him to create meticulously crafted homes that are unique to each client. He and his expert team strongly believe that homes should reflect, and be inspired by, the families that live in them – their story.
Jeff Paul's passion and attention to detail has made Jeff Paul Custom Homes a pre-eminent Houston builder in prestigious communities throughout the Houston area including Carlton Woods, The Woodlands, Lago Woods, Woodforest, Avalon Place and the Memorial Villages. His approach in these communities has netted his company numerous awards over the years, including the State of Texas Pinnacle "Custom Builder of the Year" Award, numerous Houston's Best PRISM awards and The Woodlands Custom Builder of the Year award.
Jeff Paul Custom Homes brings its years of experience, quality customer service and eye for detail to Pine Island where clients can expect a truly custom experience that includes:
A collaborative relationship between the Jeff Paul team and the client geared toward building a home that is truly a unique creation.
Quality down to the smallest detail, provided by a team of long-tenured craftsmen.
Daily hands-on supervision by experienced project managers.
Complimentary in-house design consultants.
Open lines of communication with a staff of people who care.