With more than 700 acres dedicated to parks, recreational areas, sports fields and open areas, Woodforest is a natural place to play. The 3-acre Jackson Park caters to baseball and soccer enthusiasts. And because we know Fido is a member of the family too, part of the playfield is devoted to the Admiral Bark Park, named in honor of Woodforest's first four-legged resident.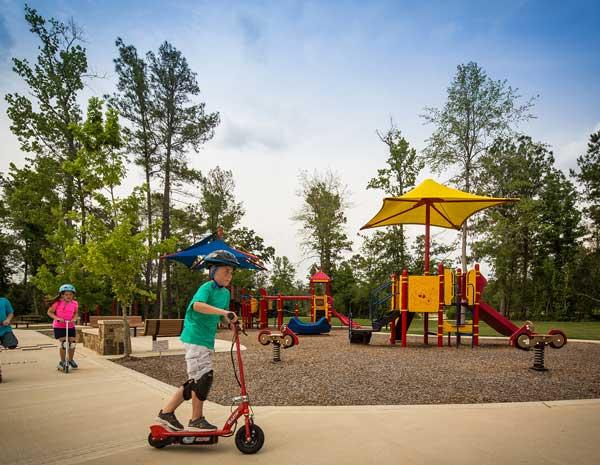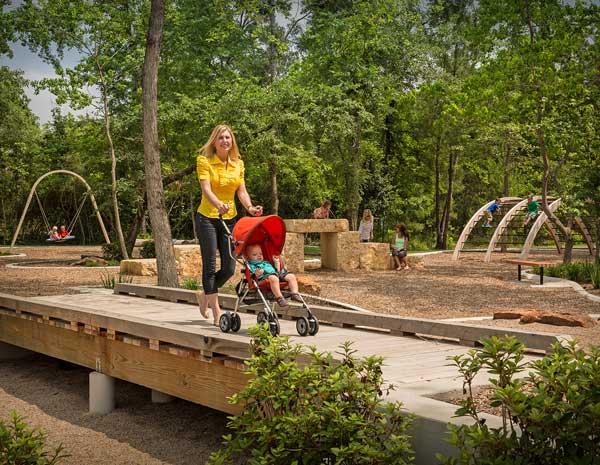 Scooter Park
Forest Heights Scooter Park keeps young residents active with swings, slides, a seesaw, merry-go round and 6-foot-wide scooter racetrack encircling the playground.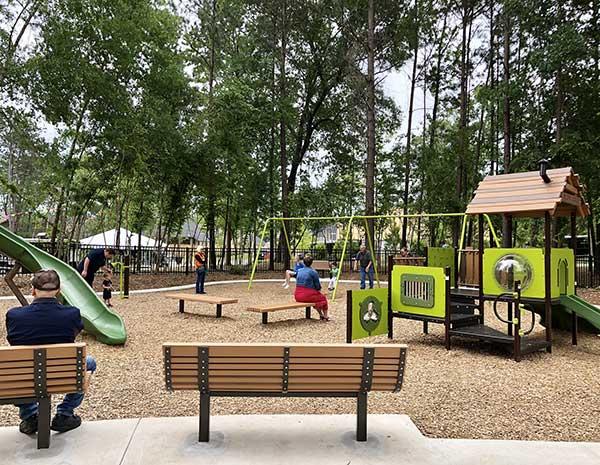 Fox Trail Park
A new park in the Deerbourne Ridge neighborhood, Fox Trail Park has traditional playground equipment that is modeled after the cute wildlife often spied in the neighborhood.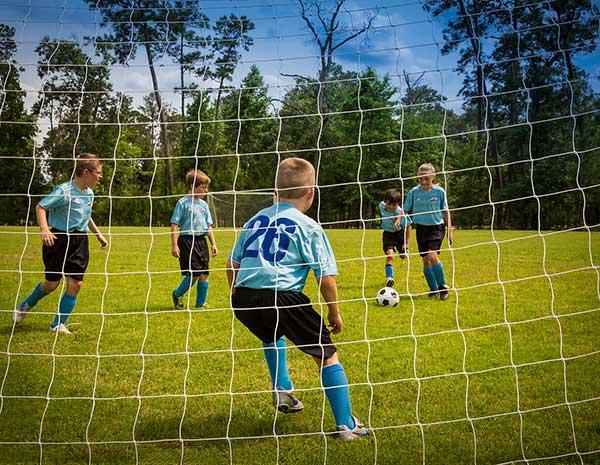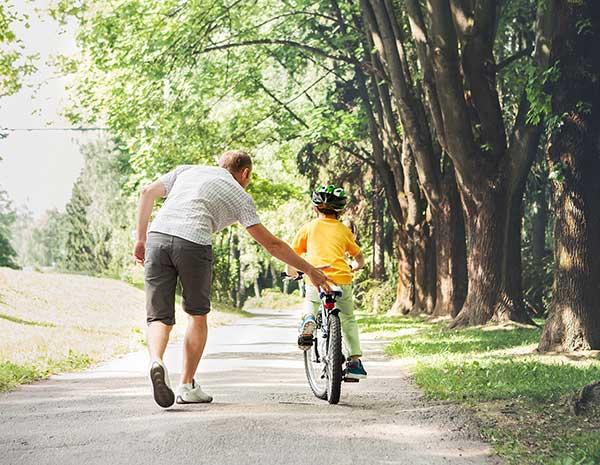 Jackson Park
Residents have a ball at Jackson Park, a 3-acre green space for baseball and soccer enthusiasts complete with soccer goals, a backstop and bleachers to watch all the action!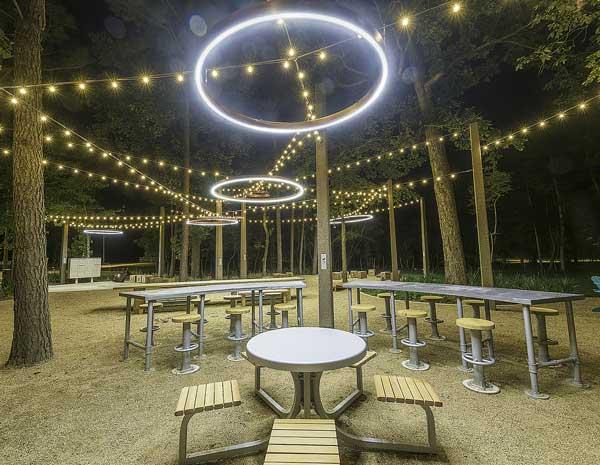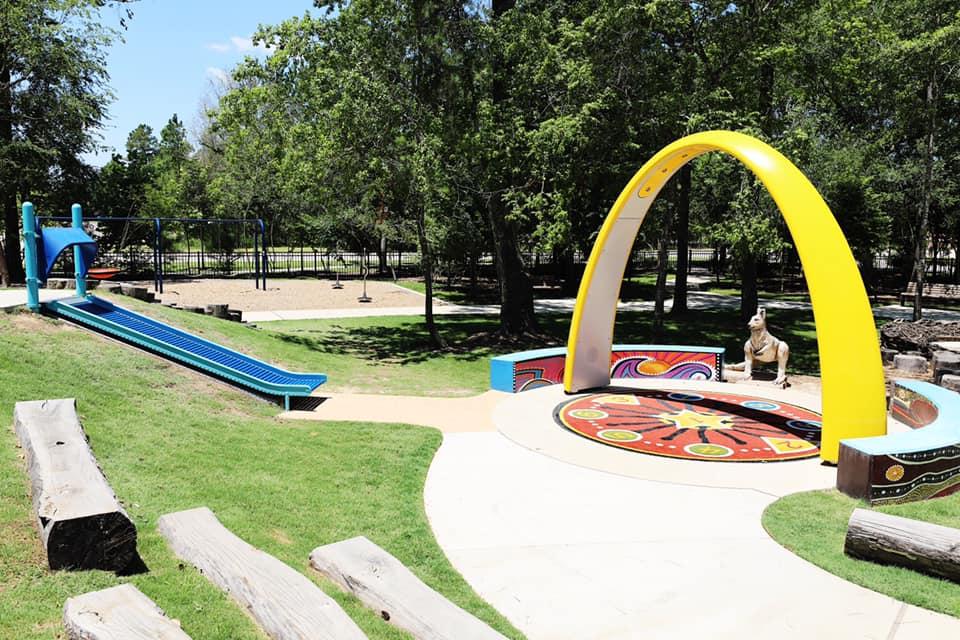 Kingsley Park
Kingsley Park is where neighbors meet, greet and relax — much like a large backyard. The tree-lined park boasts an outdoor kitchen for barbecues, a fire pit, community harvest table, large open lawn and cafe lights illuminating the park.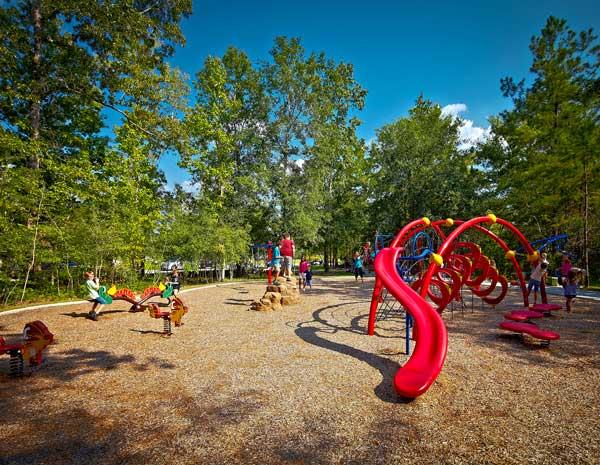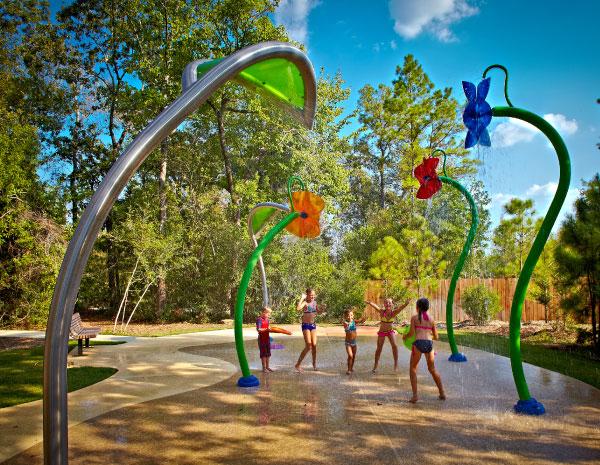 Monarch Park
A butterfly-themed park and play ground offering fun for the whole family.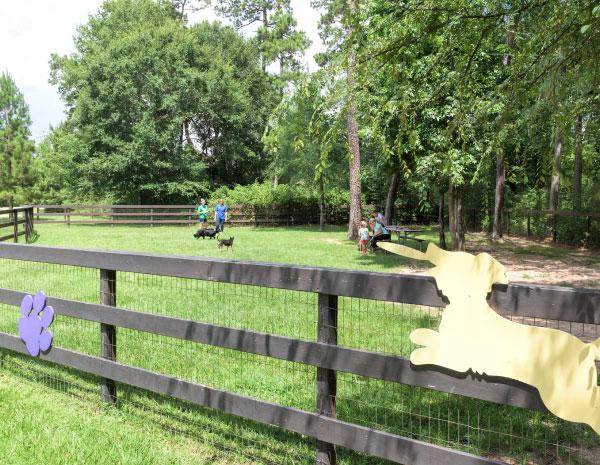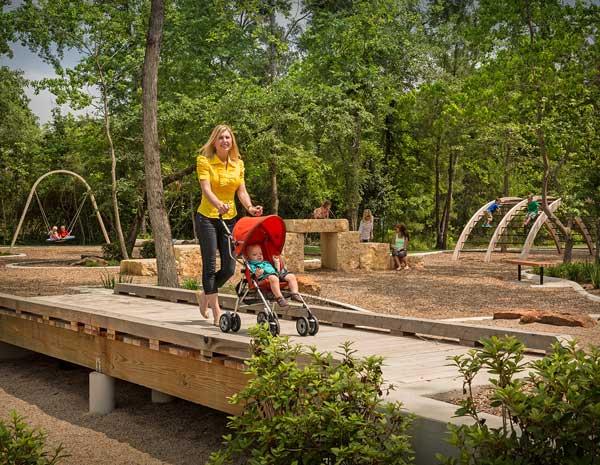 Kinderwood Park
In Kinderwood Park, play comes naturally. Here the community's youngest residents can climb on boulders, balance on logs and dig in a dry creek bed. New additions to the park include traditional play equipment and a swingset.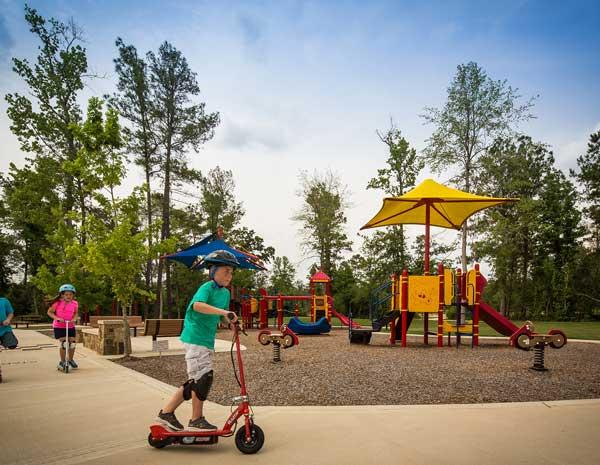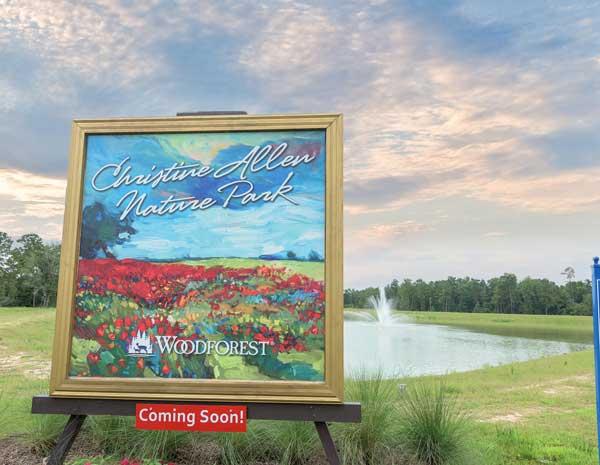 Christine Allen
Nature Park
A trail encircles the fountained pond, inviting evening strolls and offering a spot for peaceful respite. The vision for the 33-acre park is to bring peace and life to Woodforest through the arts, concerts and festivals that will be the foundation of this park.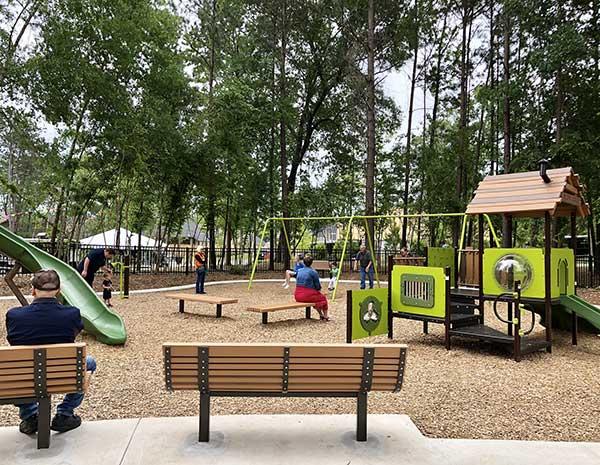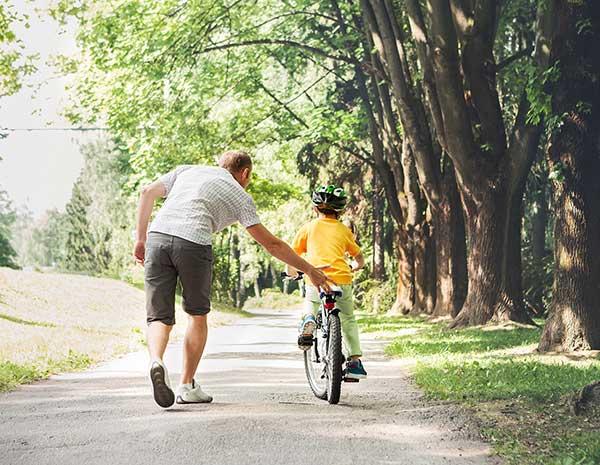 Cypress Trail Pond
Cypress Trail, a 3-mile hike-and-bike trail, meanders through Woodforest connecting neighborhoods to parks and playgrounds.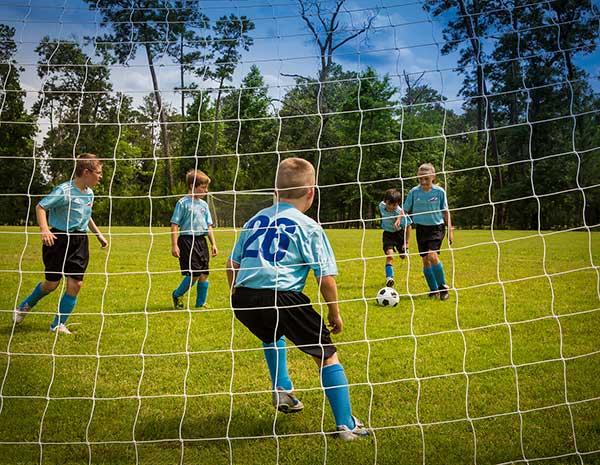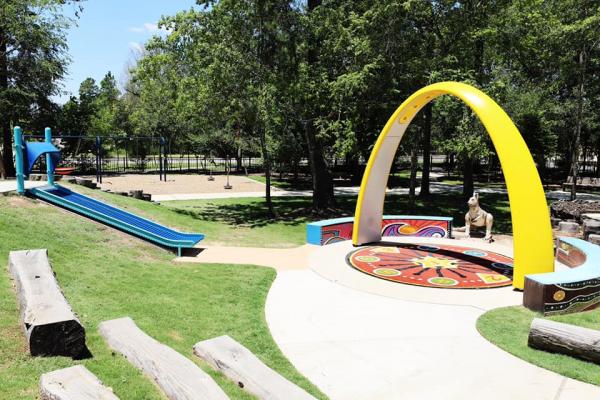 Wallaroo Park
Wallaroo Park merges interactive technology and outdoor play in an ADA-accessible park space. Wallaroo Park features a Sona Play Arch, which utilizes smart camera technology to measure the movement of those playing games using sound and movement.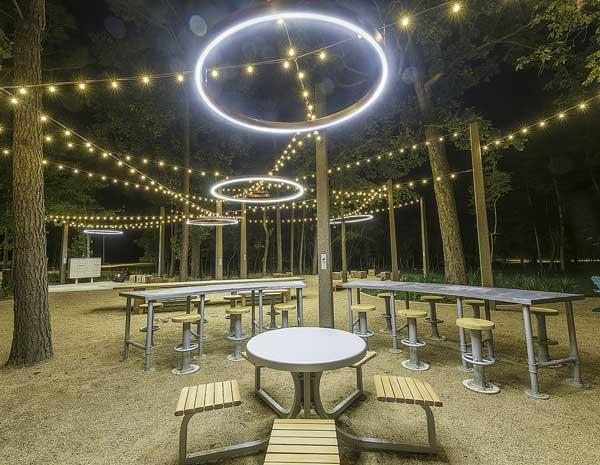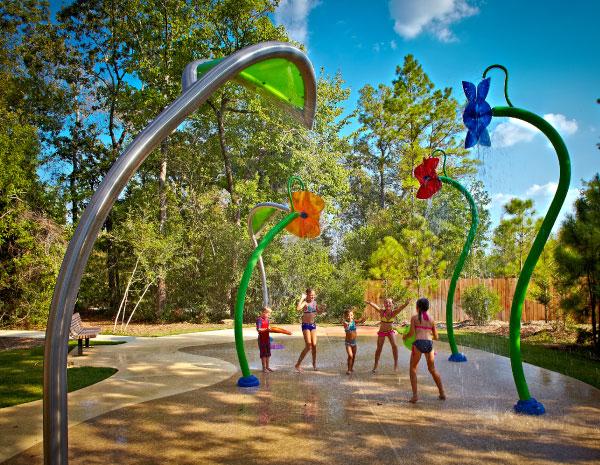 Lily Pad Splash Park
Nestled under the trees, Lily Pad Splash Park is fun for kids of all ages. Fountains shoot water up to 10 feet and fantastic flower and leaf sculptures are embedded with spray elements. The pavilion is a great space for picnics or birthday parties.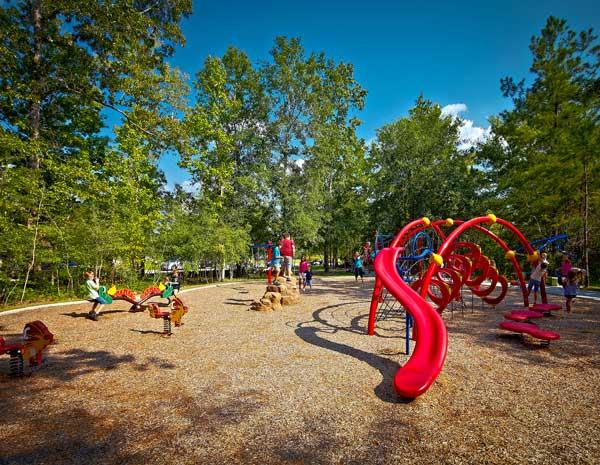 Admiral Bark Park
Named after Woodforest's first canine resident, Admiral Paul, Admiral Bark Park includes dedicated play areas for small and large pups, watering stations to quench their thirst and dog pick-up stations to keep it clean.